are in poor shape and don't
An inspection program by hoisting overhead cranes
Keeping your overhead crane running safely is a top priority as an equipment owner—and it's a job that requires expert help.
You need the peace of mind that comes with an expert technician who has your company and staff's best interests at heart.
Trust the experts at Hoisting Overhead Cranes to maintain your equipment through our Over & Above Inspections program.
Need an overhead crane inspection?
Our process keeps your equipment compliant
Here's how our technicians conduct Over & Above Inspections:
Inspect
Review equipment according to OEM owner's manual
Ensure all components are operating within specifications
Log make, model, and serial number
Note overhead crane location and surrounding equipment
Report
Capture issues, required repairs, or equipment failures
Take detailed notes and photos
Reference specific OHS or OEM codes
Explain issues and equipment impact
Review
Digitally log all findings and recommendations
Send report data to head office for review
Send final report to client
Quote
Provide detailed quote within three days
Explain quote to client and answer questions
Resolve
Follow up with client to answer additional questions
Get quote approval and book appointment for repairs
Update inspection report after repairs are complete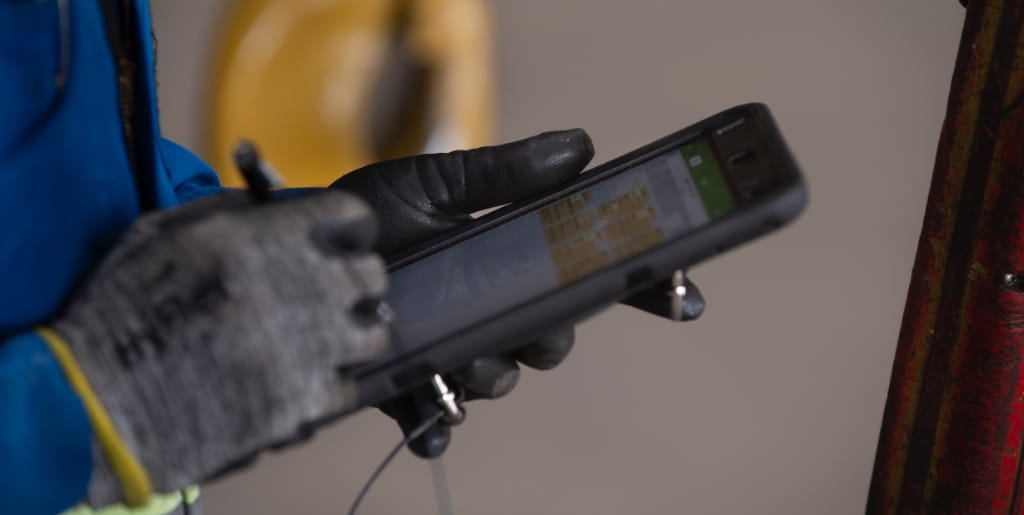 Our inspections keep your business up and running
When you choose Over & Above Inspections as your overhead crane maintenance program, you will:
Stay compliant by ensuring manufacturer-approved equipment use and maintenance.
Reduce downtime with efficient, accurate inspections and time-sensitive repairs.
Plan for the future with accurate reporting that accounts for potential problems and recommends next steps.
Our dedication keeps your workers safe
At Hoisting Overhead Cranes, we believe industry standards are just a starting point. There's always more we can do to help your employees safely and confidently operate your hoisting equipment. Over & Above Inspections is how we do just that.
Each of our technicians is backed by manufacturer course training, seminars, documentation, and proof of competency, in addition to the minimum 10,000 hours of on-the-job experience.
Our experts apply their specialized knowledge to ensure your overhead crane is being properly operated, functioning within specifications, and up to code for every component.
We regularly evaluate our inspection teams and repair processes to identify new ways to make our own operations better, allowing us to do the same for you.
Need an overhead crane inspection?
Get even more details about Hoisting Overhead Cranes' inspection program in our blog post.